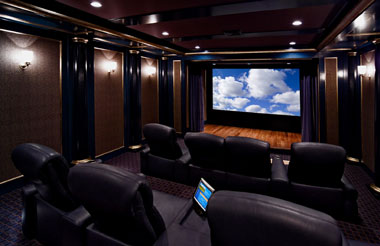 Our innovative home theater designs can adapt to any space, whether you are building a new home, remodeling, completing an unfinished attic, or you would just like to simply upgrade your family room with surround sound and a Flat Panel television, no problem.
If you would like to create your very own movie palace to enjoy the authentic theater experience, we can help. Creating a luxury Home Theater today is limited only by your imagination with advanced theater technologies you can now have a superior level of audio and video in your home entertainment room that surpasses the impact and realism of even the best commercial cinemas. Other outstanding new technology includes features such as special acoustic treatments, sound proofing, drapery and lighting control, fiber optic star ceiling, 7.1 THX Ultra ll digital sound system, universal remote, custom theater carpet and theater seating. Furthermore, we can take the clutter usually found in the family room and conceal the electronic components in cabinets and closets.  Now, projectors may be hidden in custom-made tables or bulkheads, speakers can be flush mounted, and retractable projection screens just disappear into overhead cavities.
So sit back relax and the push of a button it's Showtime.